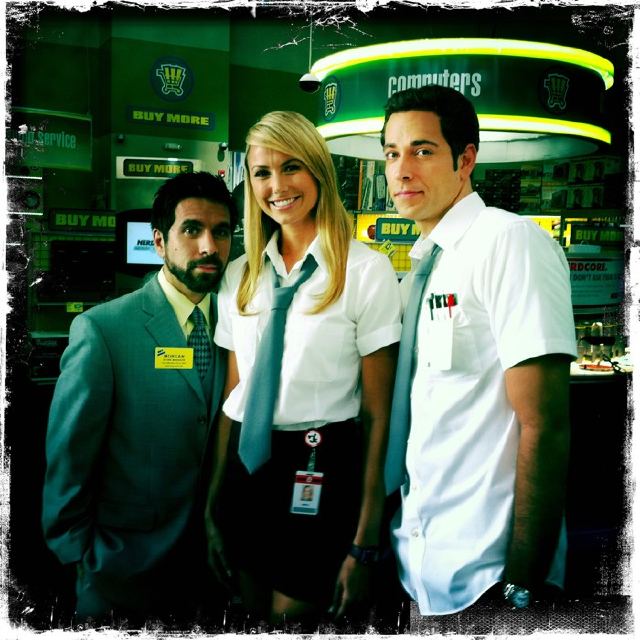 Versatile entertainer Stacy Keibler guest stars on the next episode of Chuck as Greta 3.0, following the footsteps of Olivia Munn and Isaiah Mustafa. In a conference call with reporters today, she revealed more about her Greta, including an encounter with guest star Stone Cold Steve Austin.

Stacy's Greta will be the most physical of the incarnations so far as she faces off with Stone Cold Steve Austin, in heels. She mentioned that she has a fight scene with the the big man, who reprises his role as Hugo Panzer.

"I have to sort of save him from hurting anyone else," she teased. And while she really enjoys doing comedy and action, making Chuck the perfect show for her, Stacy said, "It's very challenging to do all the fighting I was doing in 4-inch heels." Sounds like she gets in the thick of it!

Asked if there was a chance of her Greta making a repeat appearance, Stacy hedged a bit. "If I make it out alive after this episode, maybe they'll bring me back."

Appearing on the show was a bit of a reunion for Stacy. She's worked with Steve Austin on the wrestling circuit, of course, and had a good time reconnecting with him and talking about how this business [scripted television] is different than what they were in before. She'd also worked with Zachary Levi previously on Big Momma's House 2 and was delighted to get to work with him again. "He was charming and funny and really fun to be around from the first moment I met him. He's such a little gem. We were laughing all day long. It was really, really a great experience."

"Chuck vs. the Cubic Z", with Stacy Keibler as Greta, airs Monday, October 4 at 8/7c on NBC.
Source for both story and pic
Code:

http://chucktv.net/2010/09/30/stacy-keibler-talks-greta-stone-cold-chuck/